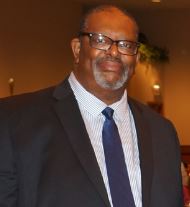 Raymond Dozier
New Executive Director Long-time CCM member Raymond Dozier has stepped into the role of Executive Director of the Concerned Christian Men. Ray is highly qualified and highly motivated. He has a BA, a Master's in Education, several years of experience working with CPS, and his son Imir has been in the program for 7 years. He will be working full time in the role.
George West
Former program participant and now Man Boy Breakfast host George West has agreed to serve as the Assistant Director of CCM. We are especially proud and pleased that a son of the program is now the Man in the program. George has his BA, is about to complete his MBA, and has excellent skills in systems management and development, talents sorely needed at CCM. And despite the fact that he is heavily in demand professionally (he just received a new promotion at work), he has committed several hours each month in support of CCM.
Sara J. Davis Sisk (Jovita)
Sara J. Davis Sisk has a B.A. degree in education and 26 years of working in Finance with higher education institutions. She is our outstanding Program Manager.